At Kensington Suites, we offer a variety of furnished short term apartment rentals. In addition, we are constantly striving to modernize and keep up with growing travel trends. Similarly, we love sharing our experiences with our guests who come to Toronto from all over the world to experience the rich cultural diversity of Toronto's Kensington Market District. Moreover, our blog is updated daily with interesting facts, travel news, local events and international travel experiences. In addition, our near term goal is to expand to new global locations. Therefore, our goal is to offer short term and monthly furnished rentals. Contact us for more information regarding other locations.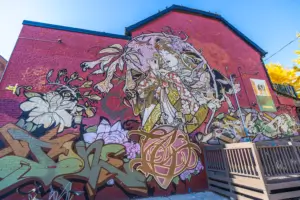 In conclusion, Kensington Suites is A True Home Away From Home Experience. Featuring a variety of luxury furnished apartment suites and private room rentals in the heart of downtown Toronto. Walking distance to many amenities such as universities, hospitals, conferences, restaurants, entertainment and grocery stores. Public transit and tourist attractions are steps away. An Airbnb alternative for furnished luxury apartments and monthly rentals.
Kensington Market is a distinctive multicultural neighbourhood in Downtown Toronto, Ontario, Canada. The Market is an older neighbourhood and one of the city's most well-known. In addition, its approximate borders are College St. on the north, Spadina Ave. on the east, Dundas St. W. to the south, and Bathurst St. to the west. Most of the neighbourhood's eclectic shops, cafes, and other attractions are located along Augusta Ave. and neighbouring Nassau St., Baldwin St., and Kensington Ave. In addition to the Market, the neighbourhood features many Victorian homes, the Kensington Community School, Bellevue Square and Toronto Western Hospital.
In addition, check out our other popular furnished rentals St Anne's Suites or the Annex Loft Suites A true Home Away From Home experience at Kensington Suites Furnished Apartments. Accommodations in downtown at the lowest guaranteed prices.